Olinda is among the most popular destinations for those who want to enjoy the Carnival revelry.
A cidade, que está dentre os melhores carnavais do país sempre recebe turistas nessa época do ano.
O melhor de tudo? Quem vai para Olinda está pertinho de Recife e pode optar por cair na folia nas duas cidades, afinal, o feriado é prolongado e não vão faltar festas para se divertir.
If your idea is to jump on Carnival in this city, know that you will have to fly to Recife and from there by car, as there is no airport in Olinda.
Either way, fun is guaranteed. Check out the airfare promotions to Recife and make your hotel and transfer reservations to Olinda:
The main characteristic of the Carnival of Olinda is the presence of the giant puppets. Every day you can count on blocks and other carnival attractions.
Outro detalhe importante da festividade nessa cidade é o clima ser totalmente folclórico e popular.
Além disso, você está bem pertinho de Recife ? há apenas 10km ? e poderá fazer uma viagem dois em um, curtindo as duas cidades.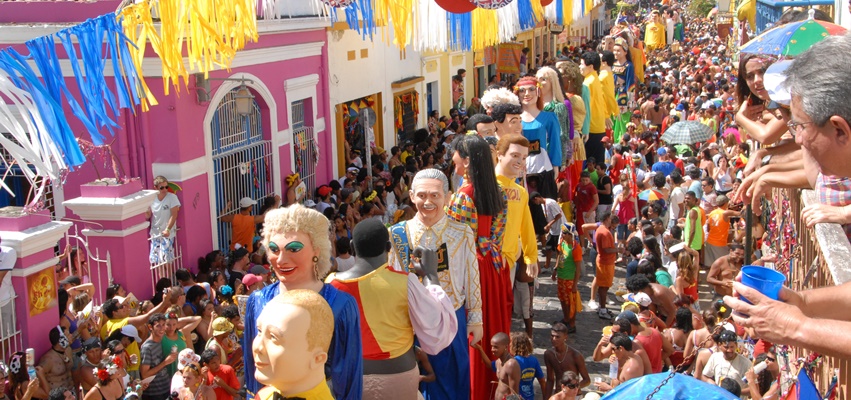 Flights from Sao Paulo to Recife
Those who leave São Paulo to enjoy the carnival in Olinda will get off at Recife airport and from there they need to make a transfer to the other city.
It is possible to opt for direct flights, with one or two stops. Gol, LATAM, Azul and Avianca serve this stretch, just choose the option that best fits your pocket and your needs.
Verifique se seu voo parte de Guarulhos, Congonhas ou Vira Copos. A maioria dos aviões sai de Guarulhos, mas algumas companhias podem incluir a ida ou a volta em outro aeroporto.
Flights from Rio de Janeiro to Recife
Saindo do Rio de Janeiro você também conta com voos diretos, com uma ou duas paradas.
Gol, LATAM, Azul e Avianca atendem o trecho Rio ? Recife, o que permite ao viajante escolher o melhor horário para o seu voo.
Don't forget to check if your flight departs from Galeão or Santos Dumont Airport. The same goes for the return. Some airlines depart from one airport and arrive at another.
Flights from Porto Alegre to Recife
If you are further south of Brazil and want to know the Carnival of Olinda you can count on the airlines to have fun in the midst of the Northeastern revelry.
Flights departing from Porto Alegre include one or two stops and the city is served by Gol, LATAM, Avianca and Azul.
You will be able to choose among the flights that best fit your needs and the best is buy the air ticket as soon as the decision to go to Olinda is made official.
Flights from Florianopolis to Recife
Apesar de a folia de Florianópolis também ser muito divertida, talvez você tenha interesse em se aventurar por algo diferente e conhecer o Carnaval nordestino.
Se essa é sua decisão, é hora de começar a pesquisar os preços do bilhete aéreo e reservar seu voo.
Avianca, Gol, LATAM e Azul fazem o trecho Florianópolis ? Recife, contando com uma ou duas paradas durante a viagem.
Faça a reserva do seu voo com antecedência, lembre-se que quem vai passar o Carnaval em Recife fará o mesmo trecho de viagem.
Fique de olho nas promoções, é interessante começar a pesquisar desde já por se tratar de um feriado. Não deixe para o último momento.
Não esqueça de reservar o transfer ou se programar sobre como irá para Olinda. A cidade está localizada a 10 Km de Recife, onde seu avião irá pousar.
Quem vem de cidades mais distantes do Brasil deve prestar bastante atenção aos horários dos voos.
Às vezes vale a pena investir um pouco mais no valor da passagem aérea para poder curtir mais um pouco do carnaval nordestino.