Airfare for the Carnival of Olinda
Olinda is among the most popular destinations for those who want to enjoy the Carnival revelry. The city, which is among the best carnivals in the country, always receives tourists at this time of year. The best of everything? Those who go to Olinda are close to Recife and can choose to party in both cities, after all, the holiday is long and there will be no shortage of parties to have fun.
If your idea is to jump on Carnival in this city, know that you will have to fly to Recife and from there by car, as there is no airport in Olinda.
Either way, fun is guaranteed. Check out the airfare promotions to Recife and make your hotel and transfer reservations to Olinda:
The main characteristic of the Carnival of Olinda is the presence of the giant puppets. Every day you can count on blocks and other carnival attractions.
Another important detail of the festivity in this city is that the atmosphere is totally folkloric and popular. Also, are you very close to Recife? there is only 10km ? and you can take a two-in-one trip, enjoying both cities.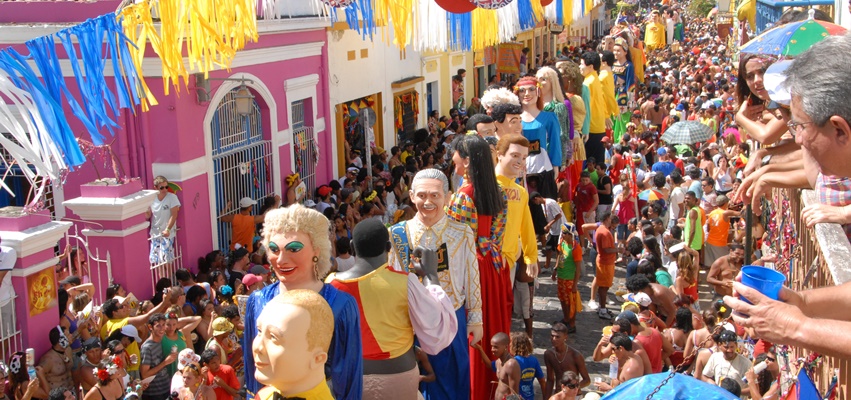 Flights from Sao Paulo to Recife
Those who leave São Paulo to enjoy the carnival in Olinda will get off at Recife airport and from there they need to make a transfer to the other city.
It is possible to opt for direct flights, with one or two stops. Gol, LATAM, Azul and Avianca serve this stretch, just choose the option that best fits your pocket and your needs.
Check if your flight departs from Guarulhos, Congonhas or Vira Copos. Most planes depart from Guarulhos, but some companies may include a round trip to or from another airport.
Flights from Rio de Janeiro to Recife
Leaving Rio de Janeiro you also have direct flights, with one or two stops. Gol, LATAM, Azul and Avianca serve the Rio ? Recife, which allows travelers to choose the best time for their flight.
Don't forget to check if your flight departs from Galeão or Santos Dumont Airport. The same goes for the return. Some airlines depart from one airport and arrive at another.
Flights from Porto Alegre to Recife
If you are further south of Brazil and want to know the Carnival of Olinda you can count on the airlines to have fun in the midst of the Northeastern revelry.
Flights departing from Porto Alegre include one or two stops and the city is served by Gol, LATAM, Avianca and Azul.
You will be able to choose among the flights that best fit your needs and the best is buy the air ticket as soon as the decision to go to Olinda is made official.
Flights from Florianopolis to Recife
Although the revelry in Florianópolis is also a lot of fun, maybe you are interested in venturing into something different and getting to know the Northeastern Carnival.
If that's your decision, it's time to start researching air ticket prices and book your flight. Avianca, Gol, LATAM and Azul do the Florianópolis section ? Recife with one or two stops during the trip. For more information on air tickets departing from Florianópolis to Recife, click here.
1- Book your flight in advance, remember that those who are going to spend Carnival in Recife will do the same trip.
2- Keep an eye on promotions, it is interesting to start researching now because it is a holiday. Don't leave it to the last moment.
3- Don't forget to book the transfer or plan how you will go to Olinda. The city is located 10 km from Recife, where your plane will land.
4- Those coming from more distant cities in Brazil should pay close attention to flight schedules. Sometimes it is worth investing a little more in the price of the air ticket to enjoy a little more of the northeast carnival.