See how to get airfare to Whistler, this Canadian city that has travelers who like a small, cool town. The resort city of Whistler became famous around the world for hosting the 2010 Winter Olympics, attracting cold-sports enthusiasts from all over the world.
The city is located 125 km from Vancouver and is part of the province of British Columbia, occupying an area of 161.72 km² and having about 9,248 inhabitants.
Best Destination for Winter Lovers
Has desire to enjoy a harsh winter and take the opportunity to practice sports like skiing and snowboarding? Then Whistler is your right destination! Even because the city is nothing more, nothing less, than the owner of the largest ski area in North America!
Anyone who loves this sport will have access to 200 slopes to practice skiing, which is incredible and has attracted more and more people who want to venture out on these slopes.
If you prefer, you can stay at the Ski in Ski Out resort, an establishment where customers can leave the door with their skis, go to the cable car and go down the mountain towards the village.
Have you ever thought how exciting staying in a city full of extreme sports of cold? That's what has made this Canadian destination increasingly popular.
Airfare to Whistler and How to Get There
As it does not have its own airport, the air tickets to Whistler must be purchased with flights to Vancouver. And we have flights to this destination from Brazil every day, which is great for those of you who are already starting to plan your vacation.
To help you in this planning process, we offer the Viajanet website services which finds the cheapest price for flights to any destination in the world.
Those departing from São Paulo to Vancouver, buying the ticket six months in advance, can find tickets starting at R$ 3.741. The following airlines fly the route: Aeroméxico, Delta, United, Air Canada, American Airlines, LATAM and Avianca.
At flights to Whistler are complete because when descending in Vancouver, the traveler can take a transfer to Whistler.
There are several buses and vans that make this route every day, making it easier for tourists who spend a few days in this amazing city to come and go.
Where to Stay and What to Do in Whistler
Now that you know how to get there and buy airline tickets for Whistler it's time to find out where to stay and what to do around town. In addition to the resort we mentioned, the destination offers dozens of options for establishments such as hotels and resorts of the most varied prices.
In general, they are charming buildings that reflect all the typical architecture of the region. You will be delighted with the accommodation options!
Buying through Viajanet, it is possible to find accommodation from R$ 233.00 a day, being able to know more about the hotels and resorts available for the period you intend to travel.
And once you get there, there's plenty to do around Whistler, aside from skiing, of course. Among the tours we have the PEAK 2 PEAK Gondola that handles two mountains by cable car.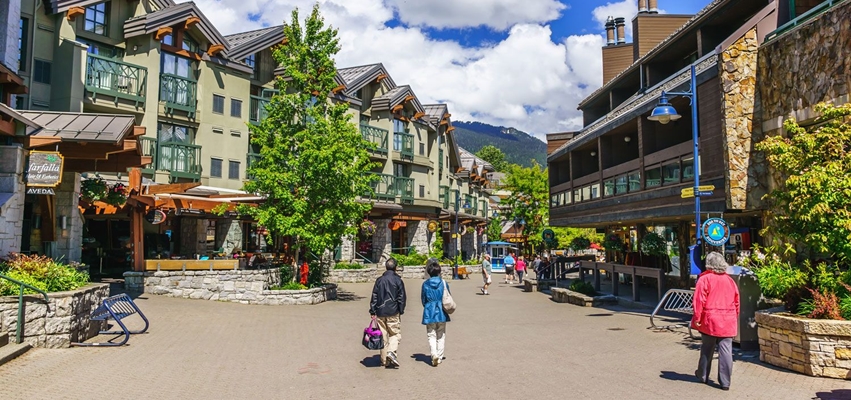 How about mountain biking? There is a park specially reserved for this sport. We also find many parks for those who like to enjoy nature, gastronomic tours and much more.
There are options for tours for all tastes, but in fact what attracts tourists to Whistler are extreme sports, such as skiing, snowboarding, zip lines, tree climbing, climbing, etc.
And as the trip between Whistler and Vancouver takes less than 2 hours, it is possible to enjoy the trip and also get to know the sights of this important Canadian city.
It is worth going with time to enjoy a little of each of the leisure options available, and buy airline tickets to Whistler/Vancouver through Viajanet you will save a lot and you will be able to enjoy several tours with the saved amount.
The same goes for those who research and find the best hotel options on Viajanet, a site specially designed for you who want to travel to the most amazing places in the world without spending a lot, saving money without having to give up any part of the trip.
Discover Whistler and everything the city has to offer! Buy your air ticket now and start planning your trip.