It doesn't matter if you're taking your first plane trip or if you're a repeat passenger, the fact is that a doubt always arises when it comes to bags!
This is because airlines have very strict and well-defined rules, which may vary from company to company.
We prepared this article thinking about clearing all your doubts about the checked baggage and over the carry-on bag!
However, before we begin, it is necessary to point out that rules may vary between airlines, and the information that we are going to share here was taken from the website of ANAC, the National Civil Aviation Agency.
To be sure, we recommend that you check the website of the company you are traveling with.
What can be carried in a carry-on bag?
The biggest doubts arise in time to pack, since it has more restrictions, The first thing to consider is the dimensions of the suitcase.
These rules vary according to the airline, so, in order not to make a mistake, our tip is that you check the company's website before you even start packing your carry-on bag.
But, according to information on the Guarulhos Airport website, the sum of the dimensions, which are height, width and length, cannot exceed 115 cm.
In addition, the suitcase cannot weigh more than 5 kg. The size of the suitcase is important because it must fit in the luggage compartments above the aircraft seats.
Blankets, blankets, umbrella, camera, also count as hand luggage.
Another issue that deserves attention is the items that can be carried in the carry-on bag, that is, the leather bag that you carry with you on the aircraft.
The first thing you should keep in mind is that you should only bring items that will be needed during your flight, mainly because the weight you can carry is limited.
So, no going out with unnecessary things, ok?
Can you take video games on the plane?
Carrying accessories while traveling is extremely common. Thousands of people who fly daily, whether on national or international flights, take children, pets and children.
Because it is something very personal, children always have tablets, cell phones with games installed.
There are children who don't give up their game for nothing, and with that many accompanying and responsible parents want to know if they can take video games on the plane?
The answer is yes, however, it is necessary to follow some precautions.
Usually airlines like trivago travel packages offer on their websites and service channels, a detailed manual on everything that can be taken.
Now that you already know that can you take ps4 in hand luggage, do not forget because it is important to note that during the flight, it will not be allowed to activate Wifi or mobile data on the child's device.
It is recommended that the equipment is in airplane mode with the network data turned off.
Therefore, the video game must store offline games. That way it will be possible for the child to play their favorite game during the flight without compromising the ride.
Here is the list of things that can be carried in your carry-on bag:
Electronic devices (laptop, cell phone, tablet, camera, portable video game).
Jewellery, watches and valuables. There are cases of theft of checked luggage, so it is best that these objects are taken with you.
Personally valuable objects. If you're taking something you really like, take it with you in your carry-on bag.
Medicines
hygiene items (toothpaste, toothbrush, hairbrush, eye drops, etc).
snacks and snacks.

What can't be carried in your carry-on bag?
sharp objects (tweezers, scissors, stilettos, knife, pocket knife)
Phosphor
Cosmetics and medicines in packages above 100ml
Alcohol and other liquids not purchased in the duty free area.
If you still have any doubts, just check out our article on handbag clicking here.
What can be carried in checked baggage?
In the case of checked baggage, the rules are more flexible and you can take a wider variety of things.
In addition, the weight also has a higher limit.
However, the weight of checked baggage also deserves attention, as it also varies if you are traveling in economy class or first class, if your flight is domestic or international, etc.
If your bags exceed the allowed limit, you will have to pay an extra fee to the company, the so-called excess weight.
Musical and sporting instruments (fishing rod, board, bicycle, ski) are generally classified as checked baggage.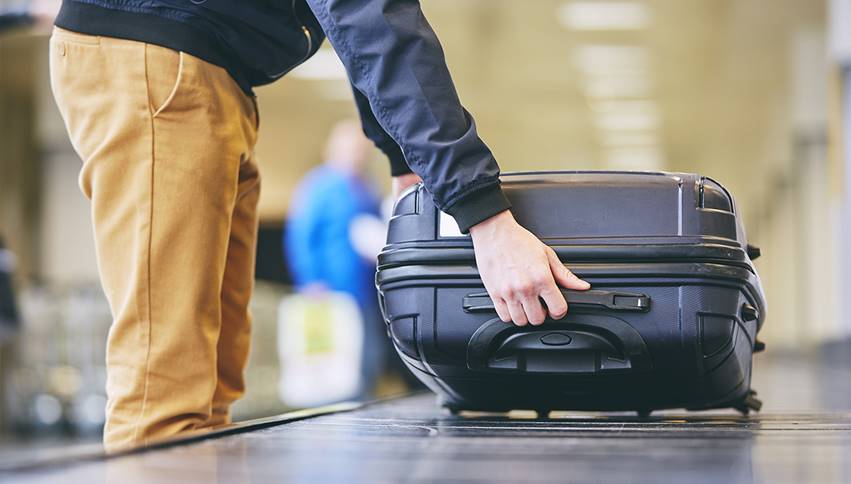 What cannot be carried in checked baggage?
As we said, the luggage that goes in the cargo compartment of the plane has fewer restrictions on the items that can be taken, but still there are some objects that are prohibited.
See what they are below:
explosive substances
gases
oxidizing materials
radioactive materials
corrosive materials
magnetic materials
Biological agents such as bacteria and viruses
toxic substances
any kind of ink
That's it for today, folks! We hope that with these tips you will not have a problem when taking a plane trip.
If you liked this article, Share with your friends and add our site to your favorites! To the next!