Traveling Alone: Complete Guide With Tips and Destinations
Where to travel alone/alone? Many people have this doubt when planning a trip, there are thousands of destinations to travel alone, national and international destinations. So with that in mind, we've put together a complete guide for you here. traveling alone in Brazil or Europe, spending very little.
Check out the tips and make the most of it. Traveling alone can bring amazing experiences. But it is necessary to take a series of measures so that this period does not become a nightmare.
Choosing the right destination, organizing an itinerary, knowing what to bring, where to stay, how to have fun, where to have some quiet time are some of the items that we will deal with in this Complete guide to traveling alone.
We believe that with information and a lot of planning it is possible to enjoy new places and enjoy every moment of rest being totally alone and why not take the moment to meet new people and cultures?
There are no more excuses to stop traveling because you don't have company, see in this guide how to plan your trips being alone and learn how this trip can change your life.
Am I Ready to Travel Alone?
Often those who choose to go out accompanying themselves are left with several doubts. One of them is whether or not you are prepared to face the road alone. Therefore, before planning your trip it is necessary to determine the real reason you are alone on this trip.
One of the reasons could be the travel date, when your vacation doesn't fall at the same time as the people you're used to going out. Or maybe the reason is the desire to reflect, see new people, change the air, make a difficult decision or even overcome the end of some relationship, whether affective or professional.
Yes, changing jobs can be a great reason to travel alone, renew your strength and mind and come back ready to discover new talent and reach a new position in the job market.
Define what drives you to travel alone can answer whether or not you are really prepared to carry your own bags, choose the itineraries, and define all the details of this precious period.
Best Destinations for Solo People
If you already understand that you are ready to travel alone for the first time, it is time to set your destination and some places in Brazil and abroad are great for this type of trip.
What makes a space suitable for solo trips are, among other things, the security that the place offers, the infrastructure and also the leisure options.
And in these items we can present some cities or countries that deserve to be on your list of options:
Jericoacoara (CE) – One of the most beautiful beaches in the Brazilian Northeast draws attention for being a quiet place and for offering beaches with warm and crystalline waters, dune walks, windsurfing tours and a multitude of other options for those who want to have fun and enjoy nature. . Jericoacoara Ceara Travel Packages
Florianopolis (SC) – The capital of Santa Catarina is another great destination for those traveling alone. The city is very popular with tourists and offers a multitude of options for tours, as well as paradisiacal beaches such as Joaquina, Lagoinha, Brava and the famous Jurerê beach.
Ouro Preto (MG) – Those who don't like the beach will love getting to know Ouro Preto and other historic cities in Minas Gerais. The morning walks are part of the cultural and historical itinerary of that region and at night there are several bars for those who love the nightlife and its hustle.
handsome (MS) – Another option that escapes the coast is the city of Bonito. But even being so far from the sea, the natural beauty lives up to the name of this perfect city for those who want to do ecotourism. There we find attractions such as diving, abseiling, trails and other adventures.
Costa Rica – The Caribbean country is a true paradise that attracts tourists from all over the world and it is not for less: adventures, along the beaches, ecotourism options and a lot of hype.
Chile – The capital Santiago is a great option for those who want to know a bustling city, but Chile has other interesting destinations: the Atacama Desert and Patagonia. It is worth including these cities in the list of possible destinations to travel alone.
Ireland – Do you want to know Europe and don't know where to start? Ireland is a great option, especially the city of Dublin which offers great pubs for those who love beer and nightlife and also several places to get to know the local culture and history of this beautiful country.
Netherlands – Another destination indicated for attracting tourists from all over the world, especially Amsterdam, which is a large city with an interior style that offers calm and excitement for travelers of all ages.

Where to Stay When Traveling Alone
Did you choose the destination? Now it's time to start plan the trip starting with hosting. Traveling alone offers a number of advantages, one of which is being able to stay in a hostel. the hostels are interesting options for those who want to meet other tourists and share experiences, form a group and do the main tours together.
In addition to gathering travelers, hostels are indicated because of the price of accommodation, which is usually much cheaper than staying in a hotel or inn.
Those who are not interested in sharing a room can still opt for establishments that offer separate rooms. They cost more, but there are those who need privacy and don't care about financial issues.
Hotel it is also a great option for those who don't want to fit in or for those who don't give up all the comfort that the hotel chain has to offer.
chalets and inns, however, they must be notified that only one person will be staying. Some even charge an extra fee, it is worth researching and making everything clear before leaving.
An interesting tip when confirming your accommodation is to write down all the negotiation and proof of deposits or transfers and leave it documented to be able to prove or claim your rights.
Create an itinerary for your trip
so that the travel become special, you need to prepare yourself and take a few hours to research the destination and define the main points you want to know. Some sites can help you define the best attractions and give tips on how much to spend, what is the best time or period of the year to visit that tourist spot.
An interesting site that will help you make this tour itinerary is take off.com travel packages which brings the tourists' own comments about restaurants, hotels and tours.
Once you've listed the places you want to visit, it's time to sort them by the days you'll be there. An interesting tip is to write down everything, opening time, closing time of activities, the price of each tour (if paid), how to get there and etc.
How to Pack for Traveling Alone
O big travel day is coming and you don't know how to pack? It's time to select the essentials according to the destination, the weather, the tours you will take and the number of days.
Some things are essential: documents (passport for international travel – ID for domestic travel), cash and credit cards. These items should always be close to you!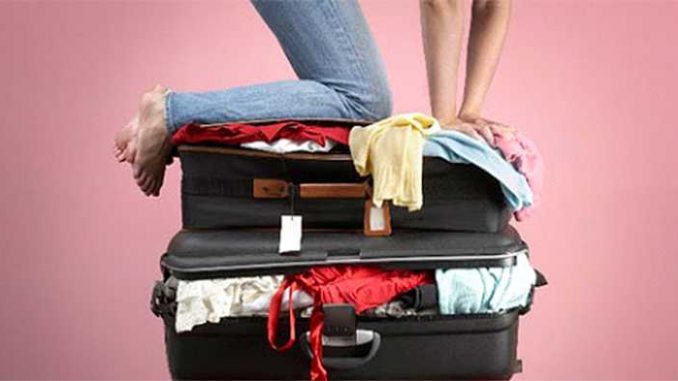 Don't forget to pack toiletries, but pay attention to the recommendations in case of international travel where the amount of shampoo, conditioner and perfume are limited.
To choose clothes, you need to get information about the climate of the place, see the weather forecast and take some extra pieces in case the forecast fails. if you prefer you can download and print the Travel Checklist. If not, see the link below.
Electronics
passport
identification document / driver's license
tickets
car booking? rent / transfer
hotel reservation (always have the address of your accommodation at hand)
cash, credit cards or VTM
health insurance ? contact phone number, contract number
tickets
restaurant reservations
I keep photos of my passport, visa and driver's license on my cell phone/cloud, in case of an emergency or any problem (or send them to my email).
Discount coupons
trip Guide
Electronics
cell (extra battery)
camera (memory card ? charger ? extra battery ? accessories to download photos if you do so)
notebook (if taking)
GPS (item that I no longer carry, because I always travel with an international phone chip and use the Waze app)
plug adapters (one of the most important items in electronics paraphernalia)
headphones
tablet / ipod
porters
pen drive
Hygiene
deodorant
shampoo/conditioner
cotton swab
cotton
toothbrush
hair brush / comb
dental floss
lip balm
Toothpaste
sunblock
moisturizing cream
pad
make up remover
perfume
shaving cream
razor blade
wet towels
diaper
baby powder
dryer ? do all hotels provide hair dryers? but I don't let go of mine
Beauty
base
mascara
shadow
dust
lipstick
primer / bb cream
liquid Paper
gloss
Medicines
contraceptive
headache
seasickness
flu cold
anti-inflammatory
allergies
old
heartburn
body pain
bandages
throat pellet
various prescriptions and controlled medicines must be accompanied by a medical prescription
General
Notebook
pen
glasses
travel Guide
padlocks
Baggage identification
seals
neck pillow
magazine / book
Traveling alone can be a great turning point in your life, so take advantage of our tips and enjoy a lot! Cameras, cell phones, tablets or notebooks can also be part of the suitcase, because you will want to register the best moments of this trip.