Traveling on vacation: complete guide with everything you need to know
take a vacation and just stay at home doing nothing is no longer part of most people's thoughts. Doing nothing can even be a good option, but still the ideal is to do it somewhere else, enjoying a beach, a resort and even the pampering offered by the chosen hotel.
But will traveling on vacation is that simple? From the style just pack your bags, choose your vacation travel package and leave? If you're being plagued by this doubt, check out our comprehensive guide to everything you should know about traveling on vacation:
Traveling on vacation: complete guide with everything you need to know

Prepare all documentation in advance
Go traveling abroad on vacation? Or even opt for something simple like shopping in Paraguay or in Argentina? Expedite all the necessary documentation before the trip. Passport, visa, updated identity, ID with more than 10 years is not accepted in Argentina, for example and children's travel authorization.
Separated parents should always remember to ask the ex-spouse to deliver a signed document authorizing the son or daughter traveling outside the country.
the same is valid for minors who will travel with other relatives such as uncles or grandparents. The ideal is not to leave it to the last minute, avoiding unforeseen events when the holidays finally arrive!
Research the local climate
Put the shame aside and research the climate of the chosen city or country for your vacation trip. Heat? Cold? A mixture of the two? It's even worth asking the travel agency guide with whom are you closing the vacation package or for friends who have already been there.
That way you avoid taking unnecessary clothes that would result in extra luggage, or clothes for the wrong weather, which would make you have to spend on it during your vacation trip.
Pets: do they go with them or stay?
Also think if you want take your pets along on the vacation trip. For some people, dogs or cats are like part of the family and they can't miss that moment.
Why think about this decision in advance? If you decide to take your pet with you, it is necessary to choose hotels that receive them and find out how their transport will be carried out, especially in the case of flights.
Also, if the pet is staying, you need to decide who will take care of it during your absence.
Ideal suitcase size for vacation travel
The size of the travel bags is also important when it comes to plan to travel on vacation. This is because it will depend on the number of days you will be staying in a certain place and how you will get there.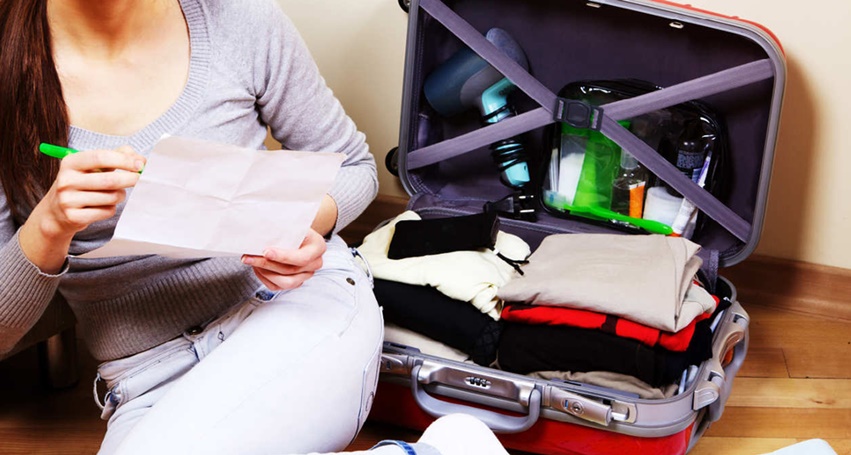 Those traveling by car with the whole family may have to choose smaller luggage compartments to be able to take everything occupying just the trunk.
Those traveling by plane or bus need to be aware of the maximum weight allowed and the type of luggage that must go in the trunk or that can go hand-in-hand with the passenger on a plane trip.
Meals included and places to eat
Check if the vacation travel package The contract includes at least one meal a day, usually breakfast, and before traveling, start finding out about restaurants close to your accommodation.
Does the hotel have a restaurant?
What are the prices?
Are there bars, cafeterias or other places nearby where you would like to dine?
Does the place of accommodation offer a kitchen so that you can prepare what you want to eat?
The more information you have related to this, the easier it is to decide whether to eat out, on the Hotel or cook your own meals.
Traveling just a few days or all you're on vacation?
Also don't forget to analyze whether it is best to spend your entire vacation period away or opt for just a week or two.
If the choice is for only one period, it is interesting to think about which week will be chosen, especially when you choose to take a vacation in months with important holidays such as Easter, Carnival, Christmas and New Year.
The reason? You have the option of traveling on days other than the holidays, which makes your trip cheaper and less crowded!