Travel Packages to Arraial D'ajuda and Tips
Arraial D'Ajuda is a fishing village located on the Discovery Coast, in Porto Seguro – Bahia, and is one of the most searched destinations for those who like nature, good gastronomy, beautiful beaches and want to escape the big cities. We will give you tips on when to go, how to get there, where to stay and talk about the nightlife and the main tourist attractions in this charming village of Arraial D´ajuda in Bahia.
When to go to Arraial D'ajuda?
Does heat in Bahia all year, but the high season in Arraial D'Ajuda is even in the summer, between November and March. The village also receives many tourists in July, because of the school holidays, and the quietest time is between May and June, but some inns and restaurants close at that time.
Travel Packages to Arraial D'Ajuda
Before buy a travel package, it is important to know that the price can vary greatly from agency to agency, and that several factors can make your cheapest or most expensive trip, such as the day and time of your flight, the airline, the type of accommodation (hotel or inn), the time of travel (if it is high or low season), the time in advance of the trip, among others.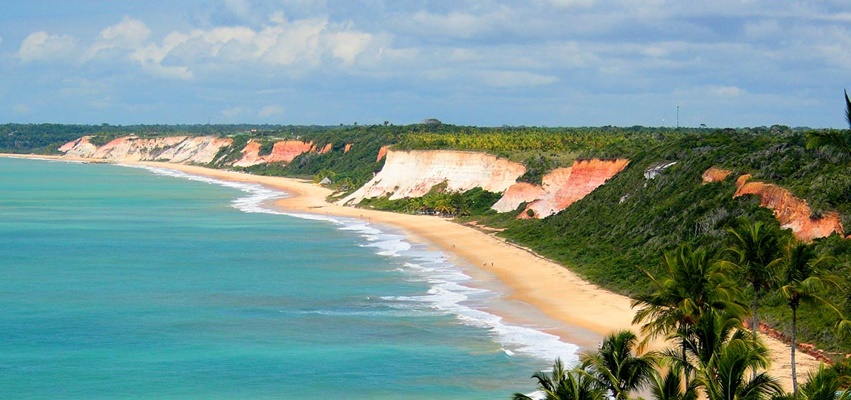 At Take off Airline Tickets, you can buy a travel package to Arraial D'Ajuda from R$930 + taxes per person, in high season (in March) with airfare from GOAL (leaving São Paulo) and accommodation for 4 nights in a 3-star hotel, including breakfast. If you want to go in February, that same package costs R$1200 per person, including taxes.
For the submarine travel, a 4-night package in February would start at R$1600 (without taxes), with a GOL flight from São Paulo and a 2-star hotel, with breakfast.
How to get to Arraial D'Ajuda
For get to Arraial D'Ajuda by plane, you must disembark at Porto Seguro airport. The main airlines that fly to Porto Seguro are Gol, LATAM. From the airport, you must take a taxi to the ferries, which are located in the center of safe harbor, 4 km from the airport.
Ferries operate 24 hours a day and the crossing takes about 15 minutes, with departures every 30 minutes. From the ferry to the center of Arraial it is another 4 km that can be done by car, motorcycle, taxi, van or bus, depending on where you are staying.
Where to stay in Arraial D'Ajuda
As we said, accommodation can make your trip more expensive or cheaper, more luxurious or simpler, according to your tourist profile and budget.
In Arraial D'Ajuda there are several options for hotels and inns, and although the village is small and you can do everything without a car, thinking about the location is also important.
If you are looking for rest, it is worth staying at one of the options on Estrada do Arraial, which is further away from the center. The Center and Estrada do Mucugê also have good accommodation options, and they are busier places.
Airbnb – Vacation rentals
One option to make your trip cheaper is to use the Airbnb, which is a platform that works via website or mobile application (Android or iOS system) for tourists to search accommodation options that are made available by property owners.[easingslider id="1602″]
Among the options you can rent a sofa in a host's living room, a bedroom, a loft, a house or a mansion with a pool, according to your budget and the owner's availability. The site is super secure, and offers hosting worldwide. There are options in Arraial D'Ajuda from R$38 per night, per person.
Main tourist attractions
Arraial D'Ajuda is much more than the old and colorful houses in the fishing village. Let's cite some of the tourist attractions, so you know what to do when you're there:
Rua do Mucugê, considered the most charming street in Brazil, is where the bars, restaurants and nightclubs of Arraial D'Ajuda are concentrated. Destination for those who want more excitement and good music;
Mucugê Beach and Pitinga Beach they have crystal clear waters, beach huts and good infrastructure for tourists;
In the Historic Center, walk along broadway avenue, visit the handicraft shops and the Nossa Senhora D'Ajuda church;
Eco Water Park, with attractions and activities for the whole family
If you have time, take the opportunity to visit Porto Seguro, which is just ten minutes from the ferry, it is worth remembering that this is one of the best destinations to travel and spend little here in Brazil!