Just as there are ideal summer destinations such as beach places, others are more suited to winter. Campos do Jordão is one of them! But that doesn't mean you don't have options. leisure in Campos do Jordão on the hottest days, or who cannot consider going to this city that is only 180 km from São Paulo if your goal is to walk and rest.
When to go to Campos do Jordão?
How Campos do Jordão is considered one of the best winter destinations in Brazil, the high season takes place between the months of June to August, when average temperatures vary between 4 and 18 degrees.
If you want to escape the crowds, higher prices or cooler temperatures, go at other times of the year. In autumn temperatures rise a little (between 9 and 21 degrees) but it is quite windy, making the thermal sensation colder.
In summer, the maximum temperatures do not exceed 23 degrees and as it is the season with the most rain, it is worth putting some pieces of mid-season clothes in your suitcase!
What to do in Campos do Jordão?
Campos do Jordão is a city surrounded by mountains, and one of the most famous tourist attractions is the Morro do Elefante, where you can arrive by car or cable car and have a panoramic view of the city.
for those who like trails and extreme sports such as trekking, abseiling and climbing, Pedra do Jaú is a great option. If your style of tourism is lighter, you can go up the mountains by tram or maria fumo, or visit the state park (Horto Florestal).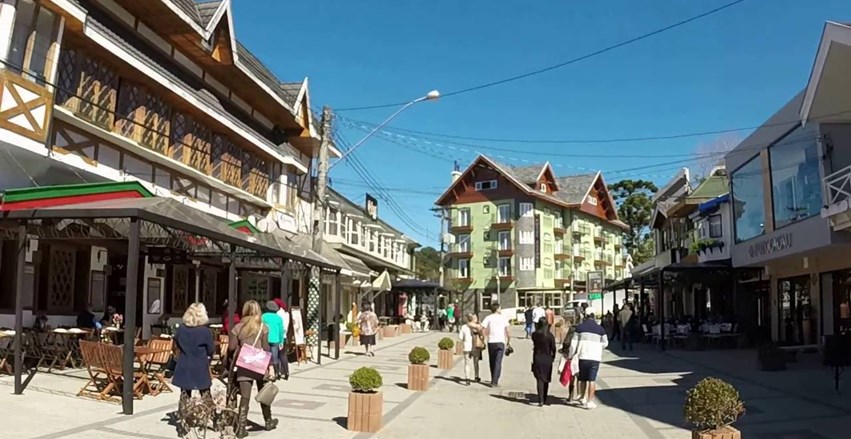 Capivari is where most of the hotels, restaurants and bars, as well as shops and the tram station. Nightlife is also lively in Vila Capivari, with options for bars and nightclubs.
winter's festival
In July, the Winter Festival takes place, which is an erudite music event that has been taking place in the city since the beginning of the 70's, with instrumentalists from all over the world, in the Cláudio Santoro Auditorium.
At that time there are also side events of other types of music spread around the city, to please those who don't like classical music.
Accommodation in Campos do Jordão
There is one ideal accommodation for all tastes and budget in Campos do Jordão. You can stay in simpler inns in Capivari or in luxury hotels (some reminiscent of large European castles) in more remote neighborhoods. Most of them have online booking sites, so you can see photos and find out about prices and availability on the date of your trip.
Another option is to use the Airbnb, which is a website (and smartphone application) where you can search for accommodation options offered by property owners for tourists. You may rent a furnished room, house or apartment, or a mansion with swimming pool, according to your budget and the availability of the owner (host). The site is super secure, and offers hosting worldwide.
Travel packages
Those who want to spend 6 nights in Campos do Jordão in high season (June) will find travel packages with airfare and accommodation from R$2800 per person (from Rio de Janeiro) by CVC. The same period at the time of the Winter Festival starts at R$2400.
At Decolar, a package with airfare and hotel with breakfast for six nights in June can cost from R$2300 to R$6700 per person, depending on where you want to stay.
If you want to spend Carnival away from the hype, package with airfare and accommodation costs from R$2200 per person (departing from Rio de Janeiro) by CVC.
All package options can be paid in up to 10 installments.
How to go on your own
The nearest airport is São José dos Campos, 90 kilometers away, but depending on where you are boarding, travel agencies will offer more flights arriving at Guarulhos airport with transfers.
From the São Paulo bus station (Tietê) to Campos do Jordão there is also a bus option, and the journey takes an average of 1 hour and a half. The ticket for the Pássaro Marron costs an average of R$100 round trip.
If you want to go by car, the main access to Campos do Jordão is via Av. Presidente Dutra, which connects São Paulo to Rio de Janeiro, and Carvalho Pinto.