Jericoacoara Complete guide on how to get there, where to stay and must-see tours. After all, where is jericoacoara? Praia de Jericoacoara is one of the main tourist destinations in Northeast Brazil and there are many reasons why it occupies this position.
for you help choose your next trip, we will give you the most relevant information about the beach, how to get there, where to stay and the tours you need to take to enjoy every moment in this city.


Located in the city of Jijoca de Jericoacoara,
In Ceara
, the beach in question is located 300 km from the capital Fortaleza and attracts tourists from all over the world due to its popularity.
To get an idea, in 1994 the American newspaper The Washington Post declared Jericoacoara as one of the ten most beautiful beaches in the world. In 2014, the Huffington Post newspaper elected as the fourth best beach on Earth. Interested?
How to get to Jericoacoara from Fortaleza?
Buy your plane ticket to Fortaleza now and from there it is easy to get to Jericoacoara, however, it is necessary to face a few hours on the road. You have two interesting options to reach this incredible destination:
By bus – Fretcar has a bus line that runs the route Jericoacoara x Fortaleza. The bus leaves passengers in Jijoca and from there it is necessary to take the famous pau de arara that will transport you to the beach.
This pau de arara is a truck or 4×4 car adapted to accommodate passengers, being a vehicle suitable for walking on city streets and facing the dunes. You Fretcar bus ticket prices cost between R$ 41 and R$ 57.
By car – Leaving Fortaleza, you can rent a car and follow the road along Rodovia CE-085, called Estruturante. With a map or GPS, you continue to reach Jijoca, as the road does not have much signage.
But stay alert! Arriving in Jijoca, the way to Jericoacoara Beach follows sandy trails, which will require finding a guide to help you get there. The recommendation is not travel alone much less venture there at night so as not to get lost.
Another alert: Unauthorized cars cannot circulate on the streets of Jeri, and there is an inspection on top of that. You will have to leave the car in a parking lot.
How long does it take from Fortaleza to Jeri? Going along the beach can take up to 7 hours of travel. By road the time is 3 hours.
Jericoacoara Airport
Another way to get to Jericoacoara is buying tickets to to Jericoacoara airport, recently opened, and which is located in the municipality of Cruz.
There are still few cities that have flight options to this airport, you can find weekly flights from Recife, Congonhas or Campinas airports through Blue Airline Tickets.
The municipality where the airport is located is 48 km from the beach of Jeri, which is an interesting option for those who do not want to spend hours on the road, as happens with those who disembark in Fortaleza. Buy your plane ticket to Jericoacoara airport now and from there you can pick up a pau de arara that will leave you on the beach.
Where to stay in Jericoacoara?
Now that you know how to get to Jericoacoara beach, it's time to get to know your hosting options. So we will give you options of where to stay on one of the main Brazilian beaches.
The beach hotel network includes all audiences, with 5 star hotels and inns and also cheaper options that are a little further away from the sea.
The Chili Beach is one of the main establishments for those who want to stay well on the beach in Jericoacoara, the daily average costs R$ 1400 out of high season. Facing the sea, tourists also have access to swimming pools, cozy rooms and many leisure and rest options.
Other hotels facing the sea with cheaper rates are: My Blue Hotel, Blue Residence Hotel, Vika Kalango, Essenza Hotel, Pousada Vento de Jeri, Pousada Jeribá, Casa de Areia and Pousada Casa do Angelo.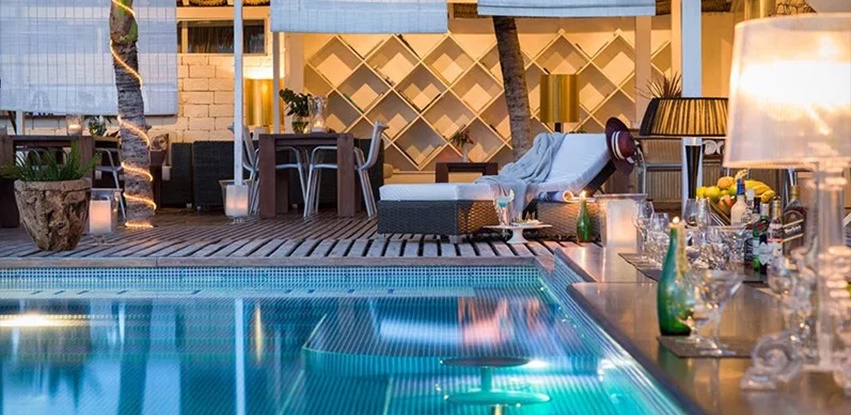 Who search for the lowest prices, you will have accommodation options in inns such as Pousada Vento de Jeri, Pousada Calanda and Pousada Vila Bela Vista that have daily rates below R$ 300.
These establishments are away from the sea and offer a smaller amount of leisure options within the property. But nothing that compromises the quality of your trip. Make your reservation right now and start planning your trip to this amazing destination!
How long to stay in Jericoacoara?
we have a list of leisure options to do during your visit to the beach, but we will give you tips on how many days to stay to make the most of each available option.
First we can suggest a day trip to Jeri, that's right, you can dedicate a day of your trip in Fortaleza to enjoy this famous beach.
The tip is to leave very early, taking the first Fretcar bus to enjoy the ride. Arriving in Jeri, look for one of the two lagoons where the hammocks are in the water so you can start enjoying nature. With crystal clear waters, who wants to escape the big cities and have hours of rest to admire natural beauties, this is the best option.
Choose one local restaurant of your choice like Freddyssimo, which serves Mediterranean food to enjoy the best in seafood dishes. Prefer Italian food? Then meet Gelato and Grano.
Go back to the beach and enjoy some more salt water and white sand. But keep an eye on the clock! Many choose to end the day watching the sunset on the Dune or going to Lagoa Azul where it is possible to witness the best sunset of your life.
Now if you have more than one day to enjoy Jericoacoara Beach, we indicate several amazing tours for you to fill your agenda with fun options for those who love ecotourism. Stay at least five days at the beach, choosing one hosting package according to your budget.
Holed stone – As the name suggests, it is a rock on the edge of the sea with a passage that has become a tourist spot for those who enjoy this contact with nature. The crystal clear waters form small puddles around the stone, allowing for incredible photos.
Lagoon of Paradise – White sand, clear water, the lagoon is a paradisiacal space that attracts tourists who want to relax and enjoy the sun that reaches 30º even during winter.
blue Lagoon – Another lovely lagoon at Praia de Jericoacoara, the space of calm waters is ideal for those who want to rest and have a beautiful landscape, being able to enjoy it alone, with friends or family.
off road – Do you like nature excursions? So this tour cannot be left out of your travel itinerary in Jeri. ATVs and 4WD take tourists to discover the dunes and other regions of the city.
dry mangrove – Those who enjoy rustic options will love this beach that offers contact with nature, allowing you to appreciate trees with huge roots that contrast with the white sand and the blue of the sea.
Surf and Windsurf – Loves water sports, Jericoacoara beach It mainly attracts windsurfing enthusiasts and you will find some companies offering these tours.
sloth tree – A living tree, but lying on the sand. The location is great for photos and has become a famous tourist spot in Jeri.
Beaches – Praia Malhada, Praia do Preá and Praia de Jericoacoara are some of the options for you to lie down resting on a mat or do some diving in the sea.
Sunset Dune – Walking through the dunes of Jeri is different, as it becomes a viewpoint where you can enjoy the sea in all its grandeur and still see the sun setting in the background. A breathtaking sight.

Buy travel packages to Jericoacoara
Now you have a complete guide to Jericoacoara Beach and you can choose each point you want to know about this destination. Start right now with planning your next trip, buying your airline tickets, booking your hotel and setting up your 2018 jericoacoara travel packages to go through the points that you found most interesting.