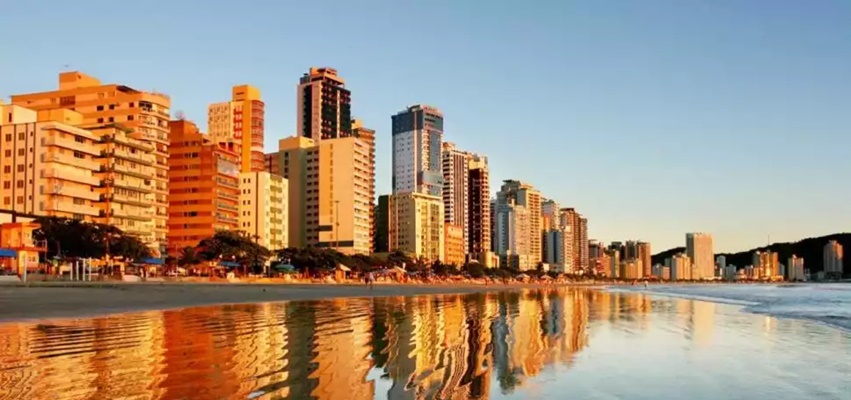 Do you love beaches and want to know one of the best in the south of the country? So check out in this article reasons for you to love Camboriú Bathhouse, one coastal city of Santa Catarina which is simply the second most sought after municipality in that state, second only to the capital Florianópolis, which also attracts tourists from all over the country and the world.
In Balneário Camboriú, you will find beautiful beaches, tranquility, a very developed city, unique natural beauties and many places for walks and entertainment.
But it is necessary if pay attention to a small detail: Santa Catarina has two cities with similar names, Camboriú – which is in the mountainous region of the state, and Camboriú Bathhouse which is the city on the coast that you also need to know to have beautiful days by the beaches that, without a doubt, are as beautiful as the beaches of the northeast.
We love Balneário Camboriú because it's easy to get to
One of the main reasons for you to love Balneário Camboriú is the ease of access. Those who come by plane can get off at Navegantes Airport which is 16 km from the city. Prefer to get off in Floripa? Then you will have to take 86 km of road to reach Balneário. Want a third option? Get off at Joinville airport and arrive at Balneário after 80 km.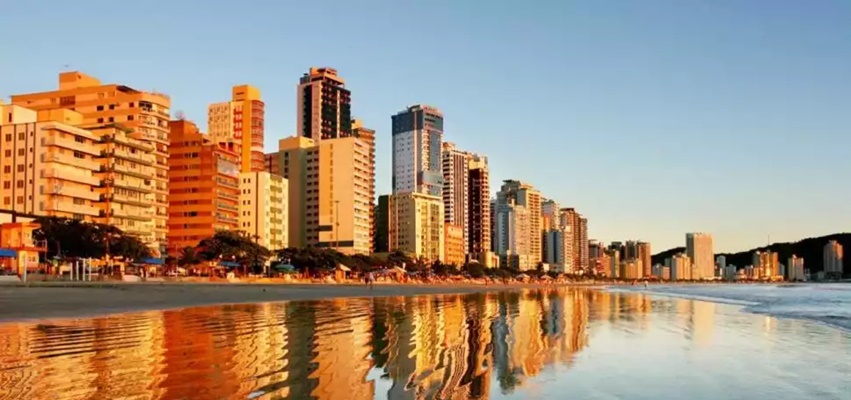 For the Navegantes option, you will find taxis, executive vans and even ride apps as Uber and Cabify that will make the journey, leaving you at your destination.
Leaving Florianópolis or Joinville, the ideal is to take transfers, buses (which leave from the bus stations and not from the airports) or taxis that will take you on this trip. Oh! You can also opt for car rental.
For get to Balneário using your own car is simple, follow the BR-101. From São Paulo there are 639 km. From Curitiba it is 240 km. Depending on your origin and the number of people who will embark on this trip, it is worth going by car. Oh! Arriving in Itajaí, it is necessary to take a ferry to reach Balneário. The view is incredible!
You can also get there by bus, just search in your city if there are lines that connect to the city. The companies that provide services in Balneário Camboriú are: from Santa Catarina, Itapemirim and Feather.
We love the summer in Balneário Camboriú
beach and heat They are elements that go together very well. That's why we recommend a trip to Balneário Camboriú between December and February, at the height of summer.
This is because the city is in the region South of the country, therefore, its waters need a high temperature to be perfect to offer you the best sea bath of your life!
THE High season in the city is precisely at this time of year, so it is worth planning to face the fees that are more expensive.
We need to remember that, despite the sun, the city is not very hot, with an average temperature of 25º. This typical climate is ideal for those who want to enjoy a quiet beach, without worrying about the excessive heat that, many times, hinders the trip more than it helps, right?
Just an extra tip: Who goes in winter to escape the high season you will find average temperatures of 15º, reaching 4º. This will prevent bathing in the sea, but will allow you to enjoy other areas of the city.
We love the city's sights
Do you like to see tourist attractions? Balneário Camboriú has great options, start with Morro dos Carecas, suitable for those who love panoramic views. From up there you can see Itajaí and also the city of Balneário. Do you like extreme sports? Then enjoy paragliding!
What about take the cable car at Parque Unipraias that connects Barra Sul to Estação Mata Atlântica? This is a tour that cannot be missed on your list of things to do in Balneário do Camboriú. Sledding, hiking and other possibilities you will find in the park.
Do you like monuments to take typical tourist photos? So go meet the Christ Light, a monument of Jesus Christ is 33 meters high. Around you find great restaurants and some musical performances.
Enjoy and get to know the Molhe da Barra Sul, a breakwater that deserves a walk for you to contemplate the whole city and you can still enter the sea and enjoy a little of the clear waters. And don't forget the photos!
We love the accommodation in Balneário Camboriú
we already talked about how to get, what to do in the city and what is the best time of year to visit Balneário. Now you need to find out that another great reason to love this amazing destination is its wide variety of hotels and B&Bs.
THE hotel chain contemplates all audiences, from tourists who do not give up luxury and prefer 5 star hotels, even young backpackers who love to stay in hostel to meet other travelers and enjoy the best of the city with new friends.
And because it is a well-developed city, you can still find options for houses and apartments for rent by the season. This is a great alternative for those going traveling as a family or with a large group of friends.
The best restaurants in Balneario Camboriu
Another big reason for you to love the city from Balneario Camboriu it's cooking. And we are not talking about a local cuisine with typical delicacies of Santa Catarina, but rather the wide choice of restaurants that cater to the most different palates.
have food australian, japanese, mexican, italian, french, fast food, pizzeria, seafood, healthy foods and much more. Those who stay in the city for several days can make an itinerary to get to know places like Taj Bar, Japanese food; the Australian Didge, Australian cuisine; Bistro Palatare, French cuisine; and Number Seven which serves seafood.
We love the Balneário night
Who loves go out at night to enjoy a bar you will find great options in Balneário Camboriú. Modern and youthful, the city pubs and bars worth visiting. Between them: Chopp Brahma Street, California Republic, Argos Gastro Pub, Guka Pub and others.
Discover Balneario Camboriu
Now that you know the best spots in the city, it's time to start plan your trip to Balneário Camboriú to discover and also come to love this beautiful city that shows much of the natural beauty that the south of the country offers.